World Class Standards
The Auto-Sert Insertion Presses have been helping customers meet their demanding production deadlines for years.
Auto-Sert utilizes the latest in technology and is CE, ETL & CSA Certified. Developed by our team of talented designers and engineers, these insertion presses just don't quit!
Whatever Auto-Sert model you decide on, you won't be disappointed.
20″ Hydraulic Insertion Press
The Auto-Sert 20″ Hydraulic Insertion Press is a high-powered, versatile machine, which provides the flexibility to work with both flat and formed parts of varying sizes. The control panel is located on the front face at eye-level for quick and easy adjustment during operation, and tooling part storage is conveniently placed within the machine itself, eliminating the need for extra shelf and storage space within the shop. Available in 7.5- and 10-ton capacity.
15,000 lbs (AS-7.5)
20,500 lbs (AS-10)
208/230/415/460/575 V
3 Phase 50/60 Hz
208/230/415/460/575 V
3 Phase 50/60 Hz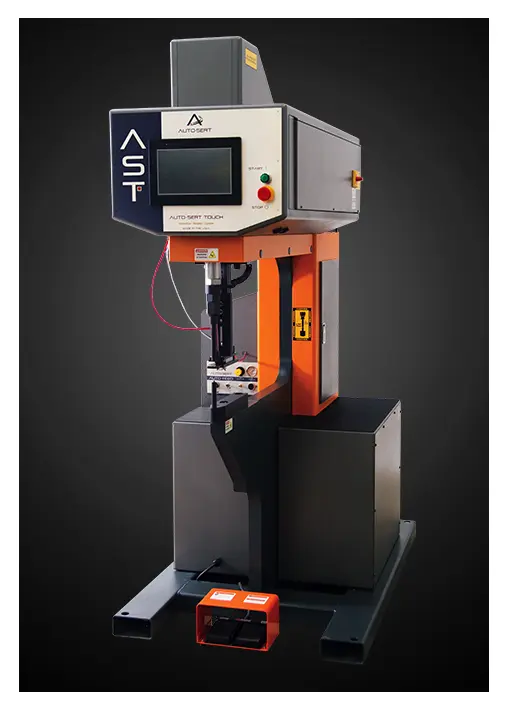 We love a challenge
CUSTOM PRESSES & TOOLING
With a wide variety of sizes and models, Auto-Sert is able to build a hardware press for any job. No matter how unique your tooling needs are, we can design and manufacture a press for you.
We have a team of talented engineers to develop tooling to meet your unique requirements.
​You'll be amazed with the high quality and impeccable craftsmanship of our tooling; all, of which, are Made in the USA.
​With knowledgeable global Distributors, our excellent customer support staff, amazingly fast and safe machines, and second to none tooling, it's no wonder our customers keep coming back time and time again.